Free CAD Software
"Design and Drafting Programs"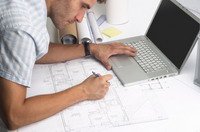 We get many inquires about the best free CAD software downloads from visitors such as yourself.
Since our company mainly deals with AutoCAD software, our first recommendation is to try the AutoCAD download trial.

This temporary version is good for 30 days.
This should give you enough time to evaluate the free CAD software and determine if it's right for you.
If you decide that the AutoCAD software program, from Autodesk, is the right program for you or your business, simply purchase the license at the end of the assessment period.
You can get full access to Autodesk's AutoCAD program in the CAD program resources below.

There are however, many other CAD CAM software and various drafting programs on the market available at no cost to you, or at the very least, a trial cad software download.
Free Drafting Software

Image: The AutoCAD Program
Free AutoCAD Download - Get 30 days of use out of the number 1 CAD program on the market.
AutoCAD Student Edition - Good news for students, teachers and CAD veterans; the AutoCAD student edition is free.
AutoCAD LT Download - Download a 30 day drafting software evaluation version of AutoCAD's liter version.
3D Canvas Download - If you are looking for a simple intro to 3D modeling and animation, this freeware CAD program will give you the basics.
A9CAD - A9Tech Inc. offers a choice of a free CAD software of their lite version at no charge, or a 30 day trial of their PRO release.  A good program for the occasional computer-assisted drafting user with 2D computer needs.
---
---
Alibre Design Xpress 3D Solid Modeler - Another solid program that is very useful for 2D applications and has basic 3D capabilities.  No fee for this one as well.
AllyCAD FREEWARE Download - A fully functional 2-D program, including toolkits, but with limited drawing size. A manual is included in pdf format and a tips section can be found on their site.
BRL- Free CAD Software - Open source solid modeling software.
More Free CAD Software Programs...
CAD X11 Free Download - Very good CAD software program.  Useful for 2-D drawings, simple wire framing and 3D modeling.
CADopia Professional 8 - Check out this 30 day drafting software trial before purchasing.  Used by architects and engineers to create industry specific drawings, it can be bought outright for a fraction of the cost of AutoCAD.

CadStd Lite Download - Have a look at the great features of this easy to use 2 dimensional and absolutely free CAD software program.
Cadvance Download - It was originally priced at $1950 back in 1995, but now there is no charge for this older release.  This version is good for 2 dimensional applications and operates in the Windows environment.
CYCAS - If you are looking for free architectural design software, to handle your 2 + 3 dimensional needs, you may find this program interesting.
DeltaCAD Download - Try this 45 day demo out and see if the program is a good fit for you.  A nice starter 2D computer aided drafting program.
Design Your Own Car Online - Most of the software online for designing cars are games, but there are CAD programs you can use to design your own vehicle.
Draft it - Here is a free, powerful, simple, 2 dimensional computer drafting program with no restrictions.  Metric and imperial units are supported.  With the PRO version, you can import and export AutoCAD DWG and DXF files.
DraftSight - Download it and get a fully functional 2D free CAD software.  You can read and edit AutoCAD drawing files as well.  Definitely worth checking out.
Architectural Software - Free CAD software architectural resources to create your own floor plans and 3D buildings.
Fashion Design Software - Create clothing, garments and accessories with fashion CAD programs.
Google SketchUP Download -  Dubbed as "3D for everyone", this is an easy to use computer aided drafting program that allows you to build a 3D model from the ground up, so to speak.  Highly recommended and this version is not just a trial, it is 3D CAD software at it's best.
JustCAD Download - Another one of the more basic freeware CAD programs with good 2 dimensional drawing capabilities.
Free Landscape Design Software - We've checked out a few programs on our website that some home builders may find handy for a backyard makeover.
PowerSHAPE-2 - Offers you a fully functional free 3D CAD program that is easy to use.  Be aware that the download only works with Windows XP and Vista.  One of the nice features, provided on their website, is the tutorials available in both i-Tunes and Windows Media Player format.
Rhino Download - A good 2D and 3D trial program, this version will let you save your work up to 25 times.
SmartDraw - This is a great application that can be used by the average Joe.  You can create floor plans with it or use it for many business applications, such as flow charts, diagrams and schematics.  Get the trial version, which is good for 30 days.
Static Free Software - This is a CAD software electrical design open source program that help you create custom IC layouts, schematics and more.
Solid Edge 2D Drafting - Register to download this 2D CAD software program.
TurboCAD Download - Register yourself on their site and receive a 15 day temporary use period.  Versions are available for both Windows and Mac platforms.  This high end software package will assist you in creating professional 2-D and 3-D drawings.  The full price is about 1/4 that of AutoCAD.
NEW! Now you can download all the resources on this page here at free computer aided design software.  This will open into a pdf. file that you can share with your colleagues, students, friends and anyone who might benefit from this extensive list.
If you come across some good free CAD software, that we have not listed, please let us know.
What's Your Favorite Free CAD Program?
Have you used one of the free CAD software programs we've listed? Or, do you know of another free CAD program that you would like to tell others about? Share your experience!
What Other Visitors Have Said
Click below to see contributions from other visitors to this page...

---
Designers Share Their Best CAD Software Reviews
Sign up for our FREE CAD Tips and Tricks Newsletter:
"The CAD Times"
---
---