Steel Building Homes

"Why Buy Residential Metal Buildings?"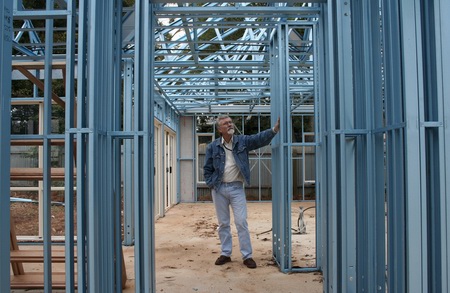 Some people may think that steel building homes might resemble a steel shed or steel airplane hangar.  For the most part, this couldn't be farther from the truth.
Many steel homes are quite attractive, and come in a variety of styles and colors.
Many manufacturers can also customize steel house floor plans to your specifications.
What's All the Commotion About Steel Building Houses?

They can be designed to be more resistant to the effects of hurricanes and tornadoes.
 
Steel is stronger than wood.


They can be designed to be more resilient to the earth's seismic conditions.


They can be designed to be tougher in northern climates where snow loads are a factor.


Steel doesn't burn so the framing won't add fuel to a fire.


They are less likely to be damaged from lighting strikes due to the grounding through the steel frame.


Bugs can't eat through steel!

---
---
Do It Yourself Steel Homes

Many steel home manufacturers will provide you with steel home kits with complete instructions.
If you are a do it yourselfer you are poised to save money by erecting your home yourself.
Some of these pre-fabrication companies also offer on-site assistance to build your steel home.
More on Pre-Engineered Steel Buildings

A pre-engineered steel building or metal building is commonly used by the residential, commercial and industrial building community for many types of structures and are much cheaper to erect than conventional building construction.
Prefabricated structures, such as warehouses and homes are also usually manufactured stronger than those built using customary on-site construction methods.
There are many types of steel and metal buildings that can be prefabricated to both standard and customized sizes to suit your specific requirements.
These buildings include:
Metal commercial buildings
Metal multi-car garages
Steel shelters for boats
Metal shelter for an RV
Modular offices
Steel barn manufacturers
Steel building homes
Prefabricated storage units
Pre-engineered livestock shelter
Steel cabins
Metal min-storage units
Warehouse buildings
Church buildings
Riding arenas
Agricultural steel complexes
Schools
Pre-engineered shopping centers
Steel pole barns
Dairy facilities
Steel firehouse buildings
Steel shops
Do it yourself metal structures
Steel gymnasiums
With so many prefabricated steel manufactures in the market, finding one to suit your needs is fairly straightforward.
"steel frame homes" could be a typical search one might use to find the appropriate pre-engineered building reseller over the internet.
The competition for pre-fab structures is intense, so be sure to shop around until you find one that meets your needs.
The CAD-CAM industry has specific software for the pre-engineered construction industry. This software is specifically designed to develop the engineering drawings for a prefabricated steel or metal structure.

---
Sign up for our FREE CAD Tips and Tricks Newsletter:
"The CAD Times"

---
---