Sandbox for fashion designers, try "Smart Designer"
by Jisoo Lee
(Seoul, South Korea)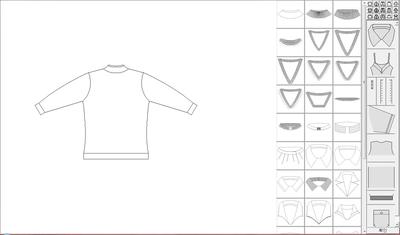 You can choose different clothes patterns through this library
So basically, this is NOT a freeware but I found this software really helpful.
It's called 'Smart Designer' made by Korean company name Modern Hightech, an internet-based software for textile and fashion designers.
I got a chance to use the trial of this program to help out my friend's graduate school project back in NY.

After using their software, I'm thinking of buying the half year license soon for my own business.

First thing that I like about this software is the fact that this program contains various kinds of clothes patterns.

Instead of drawing the patterns one by one with Corell Draw or Adobe illustrator, Smart Designer had variety of clothes patterns which you can edit.

It still allows you to create your own designs by drawing the patterns but lazy designers like me, I just use their clothes patterns and edit them in the way I want my clothes to be.

Secondly live demo.

So I asked Modern Hightech if they got any tutorial for this and they said they can support in for free through call or live demonstration.
Which is great coz it's better to learn it in live than having a call about or etc.

So after the call we set the time, the girl from Modern Hightech connected to my PC and demonstrated the software live. It was really helpful and she was very very kind and supportive.
(I kinda felt sorry for her coz I asked her for the live demo at 1pm NY time which was like 2am in Korea. And she still gladly did it for me how kind of her!)

Moreover, the software itself was very easy to use. UI looked very similar and the functions were not complicated. It only took an hour of live demo for me to use the basic functions of the program.

I still need to ask them about the detailed price but owning a program like this will be extremely helpful in this 'fast fashion' era to reduce more time and cost from design to selling stage.

If you would like to try their trial, try contacting their email below:
sd@okmodern.com
---
Sign up for our FREE CAD Tips and Tricks Newsletter:
"The CAD Times"