37 Free Pole Barn Plans that Save You Money

"Now YOU can build a pole barn even if you're not a contractor"

There's a pretty good selection of free pole barn plans scattered around the net.
Many do-it-yourselfers like to forgo using pole barn kits and opt to download a set of free pole barn blueprints to get some starter ideas for their pole barn project.
Some may even go so far as to utilize one of these free plans for pole barns to begin construction on their own barn structure.
Bear in mind that any pole barns that you download from the net may need to have some work done to them, before they suit your local building code requirements.
A visit to your local buildings control office will give you an idea of the types of requirements your pole building plans may need to meet.
When it comes to structural safety, often times a professional engineer may be required.
It is better to be safe than sorry, so please be sure to adhere to any regulations outlined by the appropriate engineering guidelines.
Note: The purpose of this webpage is to provide resources to information on pole barns, metal barns, steel barns, metal horse barns and general pole buildings, that may help you decide on your initial barn layout.  The links contained to other websites containing pole barn blueprints and plans, are in no way affiliated with our site.  Use any plans you come across with caution and be sure to talk to the appropriate agencies, as we have discussed above.
So as promised, here are links to over 37 pole barn plans free download:

Free Pole Barn Blueprints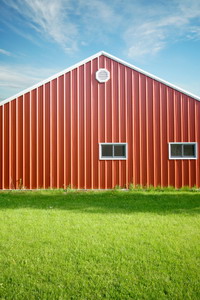 Free Pole Barn Plans - A good selection of free pole barn plans, including other storage shed and garage plans.
24' Pole Barn Drawings - A good storage barn.  Poles are constructed every 16' O/C for this barn. 
30' Pole Barn Blueprints - Similar pole building plans to the above except structure is 6' longer.
36' Pole Barns Plans - Another good pole storage barn.
42' Pole Utility Structure - Non-insulated pole barn.  Good for housing cattle, machinery and agriculture.
More Free Plans of Pole Barns - More sizes of barns similar to above.
More Info on Using Free Pole Barn Plans

Professional barn builders can be used to erect pole barns but many do-it-yourselfers choose to build their storage pole barns, horse pole barns or agricultural pole barns, themselves.
When purchasing pole barns plans many novice builders make the mistake of assuming that the pole barn blueprints can be used to construct the barn structure as is.
If you find free pole barn blueprints on the internet, or in hard copy print, chances are further modifications may be needed before any barn erection can be started.
This may also be the case for pole barns kits or prefab packages that you buy.
Although many prefab pole barn companies may have staff engineers, that use pole barn design software, to help you obtain the necessary changes; most likely for an additional fee.
Initially, any pole barn blue prints that you may purchase should be considered as conceptual only.
In most cases a building permit will need to be obtained and strict building guidelines may need to be followed with respect to the pole barn building plans.
If you plan on constructing any pole barn homes, or any outdoor structure for that matter, be sure to contact your local building code office before doing ANYTHING.
You may also need to use the services of a professional engineering to be sure all pertinent structural loading requirements are met with wood, steel or metal pole barns.
With that said, everyone needs a starting point.
Have a look at some of the free pole barn plans provided above, to get a basic idea of what is involved.
Some of the plans may contain a BOM (bill of materials) that should help you estimate your pole barn prices.
The barn material costs that you arrive should be considered preliminary only, as additional fees such as the services of a professional engineer, permits, drafting service fees, labor, equipment rental, and so on, should be allocated for.
If you require a set of plans that are specific to your needs, whether it be plans for a storage barn, metal barns, steel barns, pole barn garage, horse barns or pole barn homes, please let us know through our contact form.
We will be happy to provide you with a pole barn plans quote that is specific to a customized set of construction drawings.
When developing a set of pole barn construction plans, we will also be able to work with your building controls department to be sure your building documents meet their needs.
---
Sign up for our FREE CAD Tips and Tricks Newsletter:
"The CAD Times"

---
---