Free Picnic Table Plans

"Plans for Residential and Commercial Picnic Tables."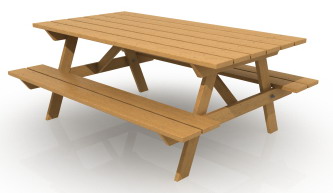 The resources available throughout the net for free picnic table plans can satisfy the needs of most backyard dwellers.
Whether you want to construct a kids picnic table, a commercial picnic table or a folding picnic table, you should be able to find a good set of free picnic table blueprints to get the job done.
Please keep in mind however that these are not our picnic table plans designs and we are not affiliated with the providers of these free picnic table plans.
So please, remember to use them with caution and discretion.
Some of these plans may also not contain information specific to an ADA picnic table layout.
If you would like a custom set of CAD plans for a picnic table created especially for you, drop us a line and let us know what you are after.
We'll be happy to create a detailed picnic table design pattern and frame plan that is specific to your backyard and outdoor needs.
We'll get back in touch with you with a quote for your customized picnic table plans.  The more information you can provide regarding your picnic tables plans, the better.

For professionally drawn picnic table plans visit here.

Free Outdoor Table Plans
Free Picnic Table Plans - A one page .pdf, complete with construction materials and sketches to put together your free picnic table frame.
Standard Picnic Table Plan - Complete with assembly photos, building instructions and a materials list, this looks like a good starter handyman project.
Free Kids Picnic Table Blueprint - Kid's just love having their very own place to sit, play and eat.  This set of picnic plans for a child size table will get you on your way to constructing something special for the young ones of the family.
Round Picnic Table and Bench - Plans to build a 59" diameter outdoor table and bench.
How to make a Folding Picnic Table - Complete with plans, directions and a list of materials to get the job done.
Sheltered Picnic Table Plan - A diagram of a picnic table with a roof showing how this covered outdoor table fits together.
Children's Picnic Table - Only 1 sheet of plywood is needed to build this child sized table.  Plans, instructions and photos included.
Easy to Build Picnic Table - Simple to put together after following these instructions and pictures.  Seats up to six adults.
28" x 8' Picnic Table Plan - Free plans, construction directions and a full list of building materials required for building a large picnic table.
Free Picnic Table Design Software - Download this free application to help you construct your own picnic table.
If you found this page of information useful, please let a friend know about it so they may also enjoy using free picnic table plans to construct their own backyard table project.
---
Sign up for our FREE CAD Tips and Tricks Newsletter:
"The CAD Times"

---
---