Free Greenhouse Plans

"Should Free Greenhouse Construction Plans Be Used?"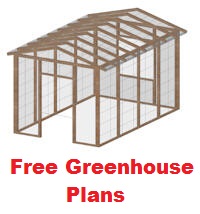 Using free greenhouse plans to build a green house has it pros and cons.  First, there is the cost saving issue.

Utilizing any type of free plans will obviously cut down on your construction costs, but are you sure that using free green house blueprints will get the job done properly?
Second, if you are going to spend money buying materials and tools to build a greenhouse, we think it is important that any green house plans used are backed by a guarantee.
This way, you KNOW that you will not be wasting time and money on what could become an expensive undertaking.
Free greenhouse construction plans offer no guarantee, so you need to use caution before undertaking a project of this nature.
We have compiled a list of resources of free greenhouse plans below.
These plans are not our plans, so please be sure to use your discretion.
However, we DO recommend a paid resource that offers greenhouse plans that come with a 60 day guarantee, easy to follow plans and instructions and a full list of the materials and tools necessary to build an attractive greenhouse.
By building your own green house, you could potentially save up to 50% of the cost of buying a greenhouse kit or pre-built greenhouse.

With that kind of savings, it may be wise to invest a small amount in a set of greenhouse blueprints that you can be assured of.

Want to Learn How to Build a Greenhouse?

Signup for the Free 7 part mini-course below.  It will be delivered to your e-mail address everyday to help keep you on track with planning and undertaking your greenhouse project.
In the helpful course you will learn:
How to Choose the Right Greenhouse for You
How to Choose the Best Green house materials
Positioning and Construction Site Preparation
Greenhouse Materials and Tools
Tips for the Building Your Greenhouse
Important Points about Heating, Ventilation and Watering
Finishing Touches for an Attractive Greenhouse
---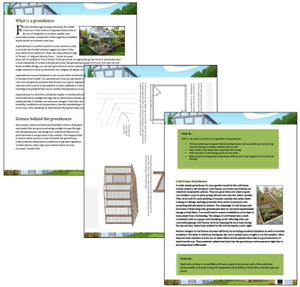 Full Greenhouse Plans and Instructions
---
The following blueprint resources are selected free green house plans that you may find useful.  Again, these are NOT our plans so please use with caution and at your own risk.
Free Greenhouse Construction Plans

7'-10" X 9'-10" Portable Greenhouse - Plans and detailed step-by-step instructions on how to construct this green house.  It comes complete with a materials list as well.
32' X 10' X 10' Green House - Includes a list of materials to build a greenhouse and illustrations.
Free Greenhouse Plans 101 - A simple and interesting approach to building a greenhouse.
12' X 14' Greenhouse Blueprints - Detailed instructions, perspective sketch and a bill of materials list are included with this .pdf.
Greenhouse Plans Variety - A selection of 18 different types and styles of free greenhouse plans.
Free PVC Greenhouse Plans - Included are detailed plans and instructions to build the green house.  A materials list and part numbering will be also helpful for construction.
Solar Hobby Greenhouse - 4 page .pdf file of plans, section and greenhouse details.
---
Sign up for our FREE CAD Tips and Tricks Newsletter:
"The CAD Times"

---
---