Free AutoCAD LISP Routines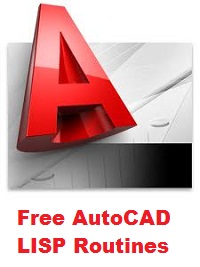 For those of you who are seeking free AutoCAD Lisp routines, we have compiled a list of resources that you may find useful.  As AutoCAD users, we have all run into situations where it would be great to reduce repetitive tasks.

Enter the world of Autolisp routines.
AutoLISP is programming code that works specifically with the full version of the AutoCAD brand of CAD software programs.
AutoLISP does not work with the LT (Lite) versions of AutoCAD however.
AutoCAD users can also undertake AutoLISP training and learn the LISP language to develop their own routines.
If you come across any good free AutoLISP routines, please contact us and let us know.
repetitive and tedious tasks to help make our lives a little easier.

Bunch of CAD Lisp Files Free Download - Just as the title suggests, this download contains a whack of free AutoCAD Lisp routines.

CAD Corner Canada – A big list of free LISP routines for download to help make your AutoCAD job a little easier. CAD Corner Canada also has an upload link where you can share some of your own Autolisp routines and help out others.
Draftsperson.net LISP Routines - A collection of free routines, utilities and add-ons for Aut- Another good freebie lisp resource that also contains an ADS and ARX applications section.
Manusoft - Another good freebie lisp resource that also contains an ADS and ARX applications section.
You may also be interested in:
AutoLISP Exchange - A free LISP site to exchange and share AutoCAD information.

SimpleCAD – A few good AutoLISP files that you can download at no charge.

DotSoft – A nice sized selection of free AutoCAD lisp routines.
Recommended reading: Hot Tip Harry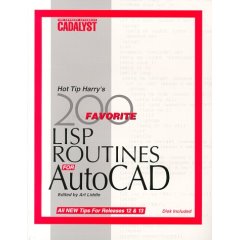 If you are looking to enhance your AutoCAD efficiency, then "Hot Tip Harry's Favorite 200 Lisp Routines for AutoCAD" should be part of your CAD library.

This HOT item also contains all new tips and tricks in the book and a disk. "Hot Tip Harry" is a popular editorial feature at CADALYST magazine. The tips included in this book come from everyday CAD operators looking to solve problems encountered on a daily basis.
Have A LISP Routine You Care to Share?
Do you have a LISP routine that you would like to post? Share it!
What Other Visitors Have Said
Click below to see contributions from other visitors to this page...

Removing Unreferenced .shx Files

When you open an electronic drawing file from a source outside your office do you sometimes get a pop-up that AutoCAD is looking for a certain .shx file? …
HowFarLisp Not rated yet
A free replacement for the Acad distance command.
---
Sign up for our FREE CAD Tips and Tricks Newsletter:
"The CAD Times"

---
---