Drawing Floor Plans

"Drawing a Floor Plan: Anyone Can Do It."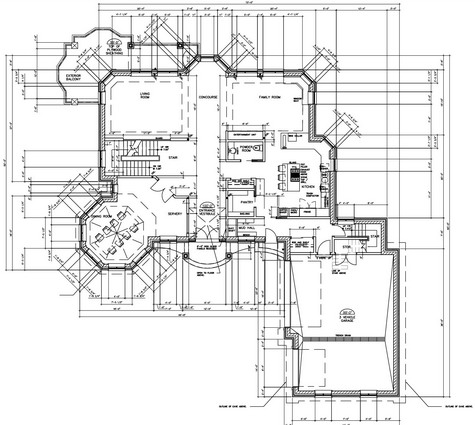 With today's technologies, drawing floor plans for a building project is something just about anyone can do.
When building a new home, a house addition, an office building, restaurant, hospital, or even a backyard shed, a floor plan drawing is required to outline the location of walls, doors and windows.
Without an accurate floor plan blueprint, it can become difficult to properly build a structure.  Most local building control offices require a floor plan drawing that is both drawn to scale and dimensioned accordingly.
There are several CAD software packages available that can assist a do-it-yourselfer to create floor plans or draw house plans.
Drafting your own floor plans is also a great way to establish a construction budget for your project, as you will be able to determine the material sizes and quantities based on the size of your floor plan.
Of course drawing a floor plan that is of complicated nature, such as commercial building drawings, may be best left to an architect, engineer or professional CAD drafting service.
But for small construction projects, creating a floor plan drawing using computer aided drafting and design software, can be accomplished by the average Joe.
Consider using a simple CAD program to get a feel for your drafting assignment.

For drafting beginners, drawing a floor plan with CAD software can be done at a very reasonable price, if not for free.
Several computer drafting programs come with 30 day free trials, and can be downloaded directly to your computer.
Check out this extensive list of free CAD software programs.  There is something in there for everyone's drafting and design needs.
If you download a trial version of a free CAD program, be sure to leave a CAD software review at the bottom of the page to help others decide which computer assisted design software is right for them.
Some may also prefer drawing floor plans the old fashioned way; by hand.  Using grid paper to layout your project is a good way to start, however when it comes time to make changes to your floorplan, many find it easier to revise a CAD drawing.
Modifying a drawing of a floor plan by hand, requires erasing and redrawing.  This can become time consuming on larger projects, although this is how all plans were revised prior to the computerized drafting age.
If you decide you would prefer to create your floor plan drawing by hand, consider getting yourself a drawing floor plans drafting kit to help you create accurate floor plans.
For those considering design a home or adding an addition to an existing house, you may want to consider reviewing the step-by-step architectural design procedures outlined in a book such as the Architectural Drawing Course.
If you would like to discuss drawing floor plans using our CAD services, please don't hesitate to contact us for a no obligation quote.
---
Sign up for our FREE CAD Tips and Tricks Newsletter:
"The CAD Times"

---
---