AutoCAD Weld Symbols

Welding Resources for Your Block Library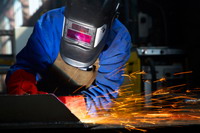 AutoCAD weld symbols are used by CAD drafters and designers to communicate weld design details on CAD drawings to various technical workforce individuals.
Engineers, welders and construction inspectors are among those required to have a full understanding of welding symbols and their meanings.
Conveying the proper welding information on AutoCAD drawings is important to all disciplines; including, but not limited to steel fabricators, manufacturers, construction firms and engineering firms.
Although there are many welding symbol libraries for sale across the net, we have compiled a short list of free ones for you to download.
Please note that we are not affiliated with the websites that provide these.
Download and use them at your discretion.
Depending on which welding standard is right for you (i.e. American, International, European or UK), the following links to AutoCAD welding symbols may be useful:
Welder symbols - A selection of various CAD weld symbols at cadcorner.ca, free for download.
If you have any blocks you would like to share, you are also encouraged to upload them.
Weld Symbols - CAD welding symbols blocks and icon menus at cadforum.cz.
AutoCAD weld symbols - And extensive block library of symbols for welding; including prequalified welds, fillet welds, arrows for welding symbols, welding parts and supplement symbols.

Dynamic Welding Block Symbols - Various dynamic weld blocks that can be added to existing leaders.

For a quick overview of interpreting typical weld symbols have a look at how to read welding symbols.

Here you will find an introduction to the basic weld symbols and what they mean.
If you are interested in having a full CAD welding block library, customized to fit your company's needs or welding program, please feel free to contact us for a free consultation.
---
Sign up for our FREE CAD Tips and Tricks Newsletter:
"The CAD Times"

---
---