AutoCAD Document Management

How to Set Up a Smart CAD Document Management System for Your Office

How to employ a smart AutoCAD Document Management System?  Locating AutoCAD project files does not need to be a tedious task.
In fact, the more organized your firm is with its drawing file structure, the more productive your staff will be.
Spending too much time searching for files on a disorganized server or CAD station is unnecessary and a complete waste of money.
Developing an AutoCAD document management system for your company is just plain good business sense and can be incorporated quite easily.An Auto CAD document management solution can be customized to suit your business.
Everything from setting up directories and subdirectories to housing AutoCAD drawings for the security of contract documents can be tailored to every firms needs.

A quick suggestion before we proceed. As with many other things, keeping it as simple as possible is your best bet!
Making things complicated is not going to assist your staff one bit and may cost your company more money if you implement a confusing document management solution.

Directory Navigation
Reference drawings, image files and project related documents need to be organized in a directory hierarchy that is easy to navigate.
Organizing your electronic document management system by maintaining drawing files away from other project files on a server or CAD station, will help to avoid confusion.
Here are some examples of how to manage an AutoCAD document management drawing directory.


Z:CLIENTNAMEJOBNOCADDWGS – location of project drawings

Z:CLIENTNAMEJOBNOADMIN – location of administration files, i.e. Word documents, memos, spreadsheets, etc.

Z:CLIENTNAMEJOBNOFILESRCVDDATE – location of project files received from client

Z:CLIENTNAMEJOBNOFILESSENTDATE – location of project files sent to client

File Naming Convention
Assigning appropriate file names is also important for identifying CAD files and their revisions.

For instance, the file name 2005492-AR-PL-01.dwg can indicate a lot of information about a drawing to a user before the file is even opened.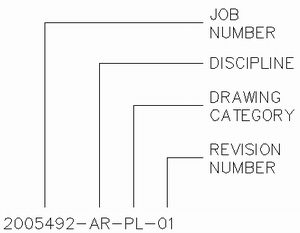 Figure 1-1 above illustrates that:

• 2005492 specifies the designated job or project number
• AR indicates that the drawing file is from the ARCHITECTURAL discipline
• PL specifies that it is a PLAN VIEW drawing file
• 01 designates that the drawing file has been revised 1 time

This file naming strategy clearly shows a CAD user or project manager the necessary project information pertaining to the file. Again, this is only an example. Modify it to suit your office needs.

Document Security
Addressing simple directory navigation and a clear file naming convention will also assist with the protection of important CAD files and project related documents.
Chances are if a CAD user can easily find what she's looking for, within a straightforward directory structure, the possibility of deleting a file in error is minimized.

Nevertheless, the security of the files beyond navigational structure must be addressed.

If you are responsible for your office AutoCAD document management system, either as a CAD manager, IT administrator or web based document management supervisor, you have a very important job. It is up to you to ensure that the appropriate staff has access only to the projects that concern them.

Files can be better protected from erroneous deletion by setting directory and sub-directory permission access accordingly. Of course certain individuals may need more access and this would need to be addressed as you organize your security network settings for staff.

Keep in mind that some project managers may need to view certain drawings and may not have access to AutoCAD. They may benefit from an AutoCAD file viewer such as DWG TrueView™. You can download the AutoCAD document management free CAD viewer
Plan and Implement Your AutoCAD Document Management System

Now that you have a basic idea of what needs to be done, sit down and plan out your strategy.

You will probably need to talk to upper management first before implementing, so be sure to have a clear plan laid out on paper.

Start by writing down your current document management system. Sketch out a flow chart of your network if necessary.

What is working and what is not? Identify what is not and determine what changes can be made to improve the system.

Are there certain staff members whose document management needs require further investigation? If so, talk to them and jot down the additional considerations.

Once you have identified the ideal document management system for your office, present a final draft to upper management. Your draft should include a list of benefits that the new structure will obtain. Once approved, be sure management sends an office memo outlining and enforcing the new AutoCAD document management system.
---
Sign up for our FREE CAD Tips and Tricks Newsletter:
"The CAD Times"

---
---