"The CAD Times"
An AutoCAD Newsletter for CAD Users
"The CAD Times", with 5,000+ subscribers, brings you the latest AutoCAD tips, tricks and articles that can help you become a more efficient CAD user.
---
How to Start a Profitable Home Based CAD Business (from Scratch)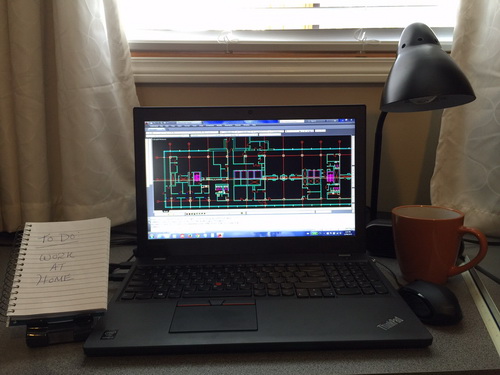 (Photo: Working on the new ThinkPad from the home office)

Breaking the 9-5 commute may seem like a dream to many CAD operators, but I have good news.
YOU can work from home doing what you love on your own terms and I'm going to show you how.
80% of the computer drafting and design jobs available to telecommuters, freelancers, and home based CAD companies are not advertised.
Find out the secrets to landing these highly sought after CAD projects, new clients and much more.
Continue to the rest of the article...
---
AutoCAD Questions and Answers Section
Non-Coplanar Lines
Q. When trying to fillet some lines in a drawing, I keep getting the response in the command line " lines are non-coplanar".
I also tried new lines from pick points and redrew.
Still would not fillet and got same response.
A. Click here to read the answer and submit your own comments...
---
Click here if you would like to ask a general AutoCAD related question or if you would like to read the entire Q&A section.
Feel free to post up your comments if you know any of the answers.
---
We hope you found this newsletter helpful!
Did someone forward you this message? Join along with 5,000+ subscribers and Sign up here.
---
Read "The CAD Times" back issues
Share YOUR AutoCAD Tips and Tricks
---
Drop us a line anytime to submit your feedback!
For information on Advertising in this Newsletter, contact us here.
---
Copyright © 1995 - 2017 by iCadTec.com
All rights reserved worldwide.
icadtec.com Home : Contact us here.
Autodesk and AutoCAD are either registered trademarks or trademarks of Autodesk, Inc., in the USA and/or other countries. All other brand names, product names, or trademarks belong to their respective holders.
---